Gharieni Vintage Collection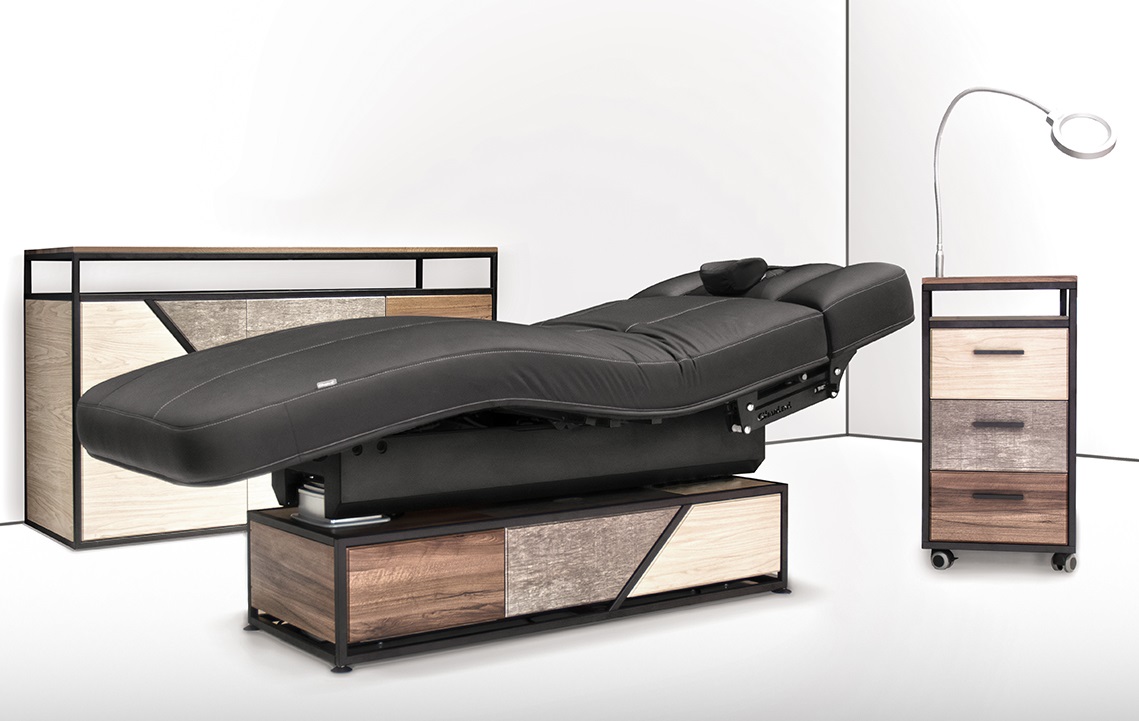 Heralding the return of retro trends in furniture but adapting it to the spa/wellness category will challenge designers to gain inspiration from the past and fuse it with modern details and inventiveness.
Inspired by Patchwork, a technique of cutting and sewing small pieces of fabric to create larger textiles, this innovative approach to furniture design interprets the idea of joining diverse wood and other panels together and showcasing high contrast colors and textures.  Pictured below are the contrasting wood tones and a mixture of vertical and horizontal directions for depth, especially when combined with the solid metal components to give it a modern yet authentic connection to the past.  Harkening back to the industrial and functional furnishings of the 40's and 50's where durability and practicality reigned supreme, these design interpretations are contemporary and ideal for today's needs.
Skillfully made with great attention to detail and materials, the MLR- Select Vintage treatment bed features all the accoutrements that Gharieni is prized for.  To complete the treatment room, an accompanying trolley and matching sideboard are available. In addition to the wood finishes pictured, the Vintage collection can be rendered into limitless possibilities to adapt to each design aesthetic.
Spa table MLR Vintage
This unique Spa table with storage space in a retro design is an absolute design highlight. The base with exclusive metal/wood design offers extensive storage space for towels and everything else you need for your work.
Like all spa tables of the MLR Select series, the Vintage has two strong lift columns, lowering and swiveling armrests, adjustable head, back, leg, and foot sections, and an optional fold-down foot section. In addition, the table is equipped with a Trendelenburg feature and a locking feature.
As an additional option, the Smart-Thermo offers a programmable heating system with automatic switch-off as well as a foot switch for controlling the basic and memory functions.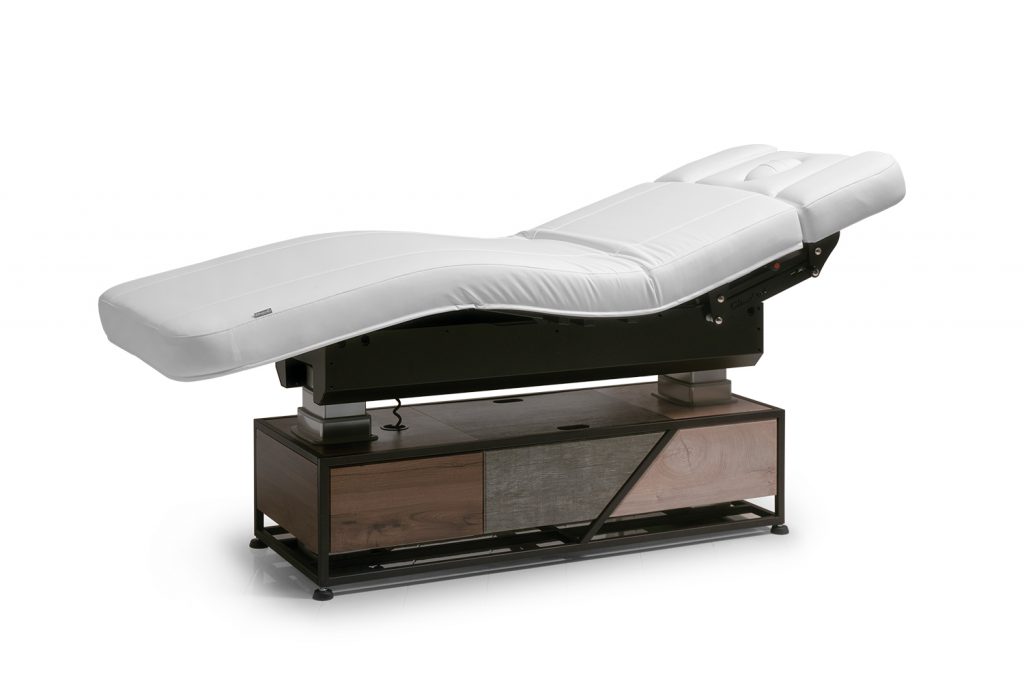 Base in metal/wood design (monochrome decor is standard)
Multicolor design possible
With side panels
Height, inclination, as well as back and foot areas are electrically adjustable
Swiveling and lowering armrests
available as pro version with foldable foot section
Trendelenburg function
Robust PU upholstery in three widths
Face cradle
Optional soft upholstery
Standard upholstery color: White. Other colors from our color collection for an additional charge
Hand switch with locking feature
Height: 61 – 97 cm (24 in – 38.2 in)
Length: 200 cm (78.7 in)
Width: M 85 cm / L 92 cm (33.5 in /36.2 in)
lifting capacity: 300 kg  (660 lbs)
Load capacity of the table surface: 350 kg (770 lbs)