NEW: MLX Quartz now includes a water cushion feature to elevate the Wellness experience
Gharieni's MLX Quartz elevates user experience with a new water element.
Just in time for ISPA 2022, a water cushion feature has been introduced to complement the MLX Quartz bed, elevating its offering for supreme comfort and relaxation. In addition, The Spa Ambience Light is now available as an option inside the frame to illuminate the water cushion and further enhance the mood in the treatment room.
The sunny warmth of alpha-quartz immersion gets a complement with an added water cushion that can easily be placed on top of the coated quartz sand to add versatility and options to any treatment room. The efficiency of being able to add a water cushion without removing the quartz sand allows more flexibility for your Spa and Wellness options. 6 cushions (5 for inside the bed plus a spare which can be used as a pillow) will ensure that the water is evenly distributed, providing a warm, stable and supremely comfortable surface.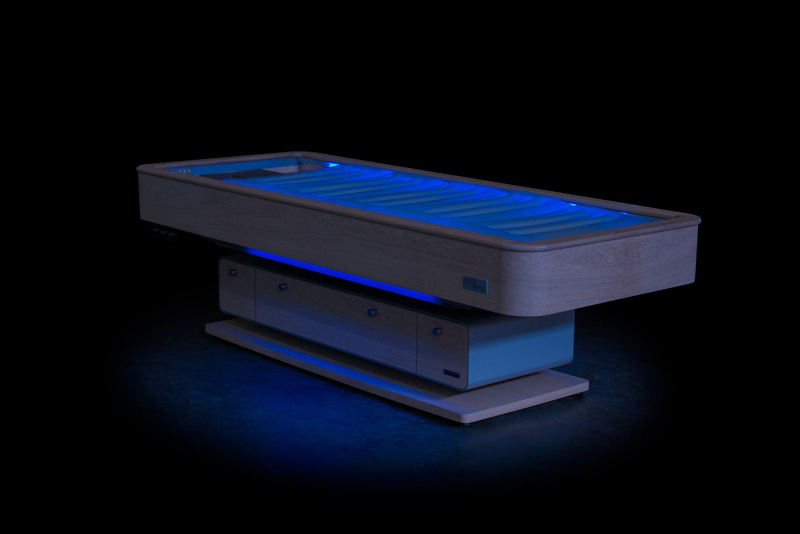 Clients can look forward to more ways to luxuriate in this beloved wellness treatment that creates a beach-like feeling with verified wellness benefits.
The small quartz grains store heat optimally, and perfectly take on the shape of the body, enabling an ideal lying base with extensive, gentle and persistent heat emission. The beneficial effect: deep relaxation of mind and body.
The MLX Quartz is also suitable for integrating other treatments like hot stones, body wrapping, singing bowls, peelings and packs etc.
Now regardless of the season, spa, wellness and beauty domains can offer their clients a feel-good experience with the verified wellness benefits that Gharieni is well known for!